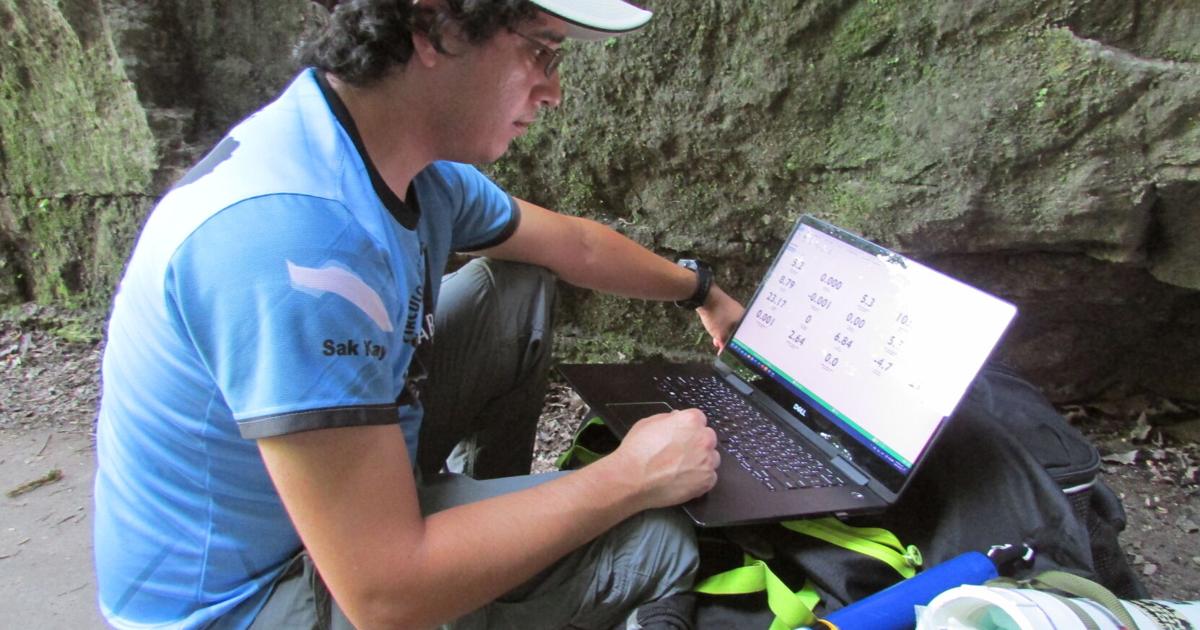 CASSVILLE, Mo. — While some anglers chase trophy trout, Fernando Calderon recently set his sights on smaller prey during a visit to Roaring River State Park.
With a special six-month permit granted by the Missouri Department of Natural Resources, effective in July and continuing through the end of the year, he joined a dive team searching for the bottom of the Roaring Spring. River. The team now has permission to collect cave organisms for research.
The clearance was good news for Calderon, a marine biologist and recent graduate of Texas A&M University. A diver himself, Calderon traveled from his home in Galveston, Texas to join divers at Roaring River to receive any specimens found.
Their mission, a priority for the KISS Rebreathers team, as well as the mapping of the source cave, was crowned with success.
"We were able to collect samples from three different species: two types of isopods, plus one amphipod," Calderon said.
Isopods and amphipods are both segmented crustaceans but have differences in their legs and other body structures.
On Saturday, July 9, the last day of the hunt, Calderon was greeted by crowds of eager onlookers when he returned to the surface of Roaring River Spring with a test tube containing the morning's catch in his hand. The tube was passed through the crowd so viewers could admire the isopod on its daylight debut.
KISS Divers Jon Lillestolen and Gayle Orner were thrilled to be part of the Underwater Species Collection. Orner, who has a background in biology, said it was the first time she had captured an organism underwater at this depth.
"It was a bit like capturing a bumblebee in a jelly jar when I was a kid," she said.
Crustacean subsurface dwellers have been found at depths of 90 feet and 200 feet.
After collection, the creatures' lives were sacrificed for scientific research.
"I euthanized them with pure ethanol," Calderon said. "Ethanol appears to be the most effective in preserving genetic material."
Calderon, who met members of the KISS Rebreathers dive team at an international cave diving conference in Marianna, Florida, in 2018, said a DNA study of the samples will begin in September, when he takes on a research position at Texas A&M.
"We should have results by the end of the year," he said.
Calderon says the results should indicate whether the crustacean species are unique to Roaring River Spring or share genetic material with those found in other cave and spring systems in the area.
In addition to research on the organisms themselves, Calderon conducts tests on the properties of the water where the species have been found.
"We installed two temperature sensors at different depths in the cave to learn more about the environment the creatures like," he said. "We will leave the sensors in place to record temperatures until our next visit in August."
A multiparameter probe, an instrument capable of sampling a vertical profile of multiple water conditions, was also taken by Calderon.
"The probe collects data on salinity, water pressure, temperature, turbidity, and the oxygen and pH content of the water," he said.
Due to Calderon's presence, collecting specimens from Roaring River Spring was the priority of the KISS Divers' visit in early July, but continued exploration of the spring remains at the top of their list.
In November of last year, the KISS team put Roaring River Spring on the map as the nation's deepest explored spring reaching a depth of 472 feet, with more depths yet to be probed. High water flows earlier this year prevented further exploration, but they plan to resume searching for the bottom later this year.
In order to dive deep, KISS divers must first pass through a narrow restriction that exists at a depth of 225 feet. A dive team in 1979 and another in the 1990s were unable to cross this restriction due to the traditional and bulky dive equipment they were using. However, divers affiliated with KISS Rebreathers navigated through the once impenetrable passage in August 2021 through the use of compact, side-mounted rebreathing equipment designed by Mike Young, Chief Diver and CEO of KISS Rebreathers.
"It's scary in there," Young said after crossing the restriction for the first time, in reference to the room on the other side.
Although the water flow through the restriction was low enough to allow penetration when the KISS team visited in July, Mike Young was ill. Mapping diver Jon Lillestolen was the only member of the team present to experience the restriction, but for safety reasons he did not want to attempt the solo crossing.
"I stuck my head and shoulders out to look around," he said. "There was a broken lifeline that we will need to fix, but water conditions look good for more deep diving when we visit in August, barring any flooding."
KISS Rebreathers divers will return in the spring from August 19-21, when YouTube Dive Talk hosts Woody Alpern and Gus Gonzalez will also be in attendance.
Saturday, August 20 will also coincide with Kids Fishing Day at Roaring River State Park.