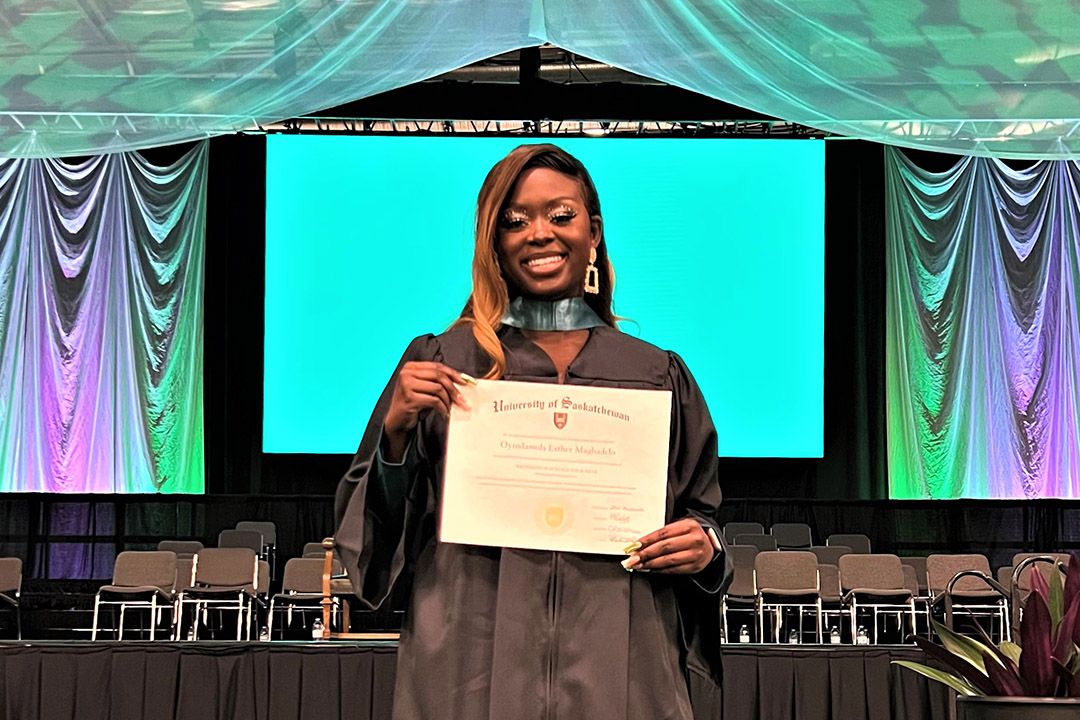 "My friend said, 'You realize you're one of the first black female students and one of the first black women (in the program),'" Magbadelo said. "I was like 'Wow.' At that point, I really realized that I was potentially making history, and that was a huge wake-up call.
Magbadelo was one of the first black students to graduate from the new biomedical sciences degree program at this year's University of Saskatchewan (USask) Spring 2022 Convocation. She also earned a minor in psychology.
When she realized she was also one of the first black women to graduate from the program, Magbadelo reflected on the moment.
"It's encouraging and motivating to be an example for other women of color to just give it a shot," Magbadelo said. "You'd be surprised at how many opportunities you have, but you can overthink it or undermine your value."
Magbadelo's interest in biomedical sciences began in high school biology – specifically the brain and heart.
When applying for post-secondary programs in 2018, Magbadelo was looking for direct-entry programs that matched her interest in learning more about the functions of the brain and heart. After moving from her hometown of Calgary, Alberta, Magbadelo was first accepted to USask for the Pharmacology and Physiology program until the new Biomedical Science programs opened in 2020.
"I said to myself: 'I will take my chance and I will apply for a transfer.' And the funny thing is, I applied the day before the admission deadline because I was too focused on not getting in because there were 40 places available for neuroscience.
She quickly learned that she was accepted into the program and over the next two years, with the program undergoing some changes, Magbadelo graduated.
The revamped biomedical science programs are a partnership between the College of Arts and Sciences and the College of Medicine. The updated program began in May 2021, with the goal of providing cutting-edge multidisciplinary training that will position students for careers in the biomedical sciences and health professions.
Now that she's graduated, Magbadelo is ready to enter STEM (science, technology, engineering, and math) fields.
"It was overwhelming at first," she said. "But once I crossed the stage, I realized that the real work starts now. And I have to do something to make an impact in society.
Magbadelo wants to work in the field of clinical neuroscience, possibly as a clinical laboratory technician specializing in neurological disorders.
"My main goal is to really be involved in research and innovation to find diseases and treatments related to neurology," she said.
Magbadelo offered advice for other black women and people of color considering applying to biomedical sciences and/or other STEM fields.
"The #1 thing is not to underestimate yourself," she said. "You are more talented than you think. High expectations of yourself can push you (to excel), but at the same time, it can also cause you to question yourself. So, be your best critic but also your biggest supporter.